No matter what kind of smoker you are, a grinder is compulsory.
Nothing is better than starting off the day with a satisfactory ole wake 'n' bake? With a cup of strong coffee and how can you have a bad day?
Do you know what makes your favorite dark roast so yummy?The fine in the grind, my dear friend.The finer your coffee ground, the better your coffee is stronger and tastier.
It is the same with your weed, regardless of how you take it:
Rolled in a joint
Wrapped in a blunt
Paired with your favorite weed vaporized.
That makes the herb grinder one of the most important parts of your smoking experience, and if you don't have one then you're missing out.
Many of you may ask yourself what is the best option ceramic coated weed grinder or aluminum grinder? It seems tough to choose the best thing when you have many options. Especially when you have to order it online. The answer should be on the qualities, materials, the main features of the weed grinder. We should aware of the best use of ceramic as well as aluminum.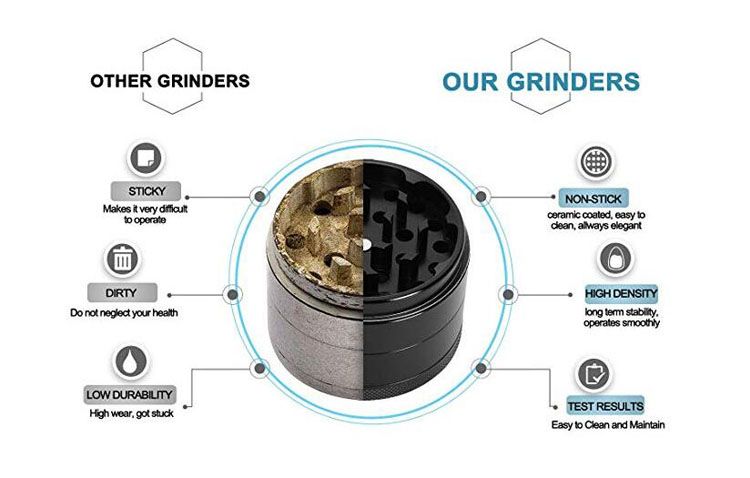 I found a ceramic coated grinder much better than an aluminum grinder. The main reasons are:
Washable ceramic surface
Self-cleaning
Ceramic coating for non-sticking or non-friction
The ceramic fill tiny cracks on the aluminum surface where leftovers remain sticking. Due to less friction, there are no scratches on the teeth as well as on the surface of the grinder. Once the particles of aluminum mix with weed, smoking it is an extreme danger to your health.
What does ceramic coated means?
The Nonstick Ceramic Herb Grinder is perfect for grinding all types of weed plants. The grinder has a ceramic coating. It used to solve the problems of corrosion, wear, heat, insulation, and friction. It also makes cleaning the grinder easier than ever which makes this grinder perfect for daily use.
Increase part's life
Reduce heat on high-temperature components,
Reduce friction,
Stop thermal and acidic corrosion,
Improve the appearance of the surface.
The main thing we like about non-stick is that it does not include any toxic substances like Teflon or PTFE.
Salient Features of Ceramic coated weed grinder:
The non-stick coating prevents the herbs from sticking to the grinder walls. It makes grinding effortless. It is easy for you to grind a large amount of herb.
Chemical Resistance:
Ceramics have excellent chemical resistance.
You can clean the walls and teeth of the grinder.
Main aspects of Aluminum weed grinder:
Although aluminum known to be soft, it is still a solid metal. This makes them difficult to wangle if. For example, many people cut supplies with an aluminum pocketknife. Many people use aluminum knives to cut weeds without subtracting from the risk.
It's difficult to vaporize aluminum:
It is dangerous if aluminum scraps mix with your weed, it is difficult to vaporize aluminum.
Aluminum is lightweight. Its use in a grinder makes it light to carry anywhere.
Fire resistance and rust-free:
Aluminum is a constructive heat conductor. It is fireproof and rust-resistant. Yet, aluminum is a soft metal and that can scratch and dented. It can also react with certain foods. It can also react with certain foods. There are so many harmful ingredients in your smoking traps (PF, the dangers of using an aluminum grinder are a myth).
Confused?
I know you confused between both. Let's take an example. When you need coffee, you usually find the instructions very simple until you try them. Requires skills you can learn. If not, you can spoil it. The same is true for grinders. This mix is easy to download but will need some skill and the right grinder. The grinding choice may seem new and strange, but they all happen considering you are looking at something new and will soon introduce you to the whole process and choice.
Tips for using a grinder:
Whether you buy a ceramic-coated herb grinder or an aluminum herb grinder, the process for grinding weeds is straightforward. Here are some expert tips for getting the most out of your herb grinder.
You don't have to exert much force to turn the hand grinder. About a dozen turns will need you a perfect weed on a sharp, well-maintained grinder. It is moreover important not to overfill the grinder. You always have a choice to go back for a second round to avoid taxing the grinder.
If you want to grind very fine, remove the kief chamber, turn the grinder, grind and re-enter the kief chamber without grinding. This technique prevents shoots from falling into the basement, which allows for smoother grinding and results in plane weed control.
As with other marijuana traps such as a water pipe and ashtray, it is important to alimony the grinder clean. Soft and plain cloths will work but stave rubbing like peeling pads, which can forfeiture the herb grinder. Use rubbing swig as a detergent, rinse with warm water, and dry well. This vital treatment can help your grinder last longer and cannabis wits every time.
What should you do when choosing a weed grinder?
You should keep in mind the following aspects while choosing the best weed grinder.
There are many types of materials used to make a fine grinder. Aluminum, wood, acrylic weed grinders.
Some grinders contain multi compartments for kief and pollen and some two-piece grinder in which you grind your weed.
The size of the weed grinder is very important. A small grinder portable, easy to carry while a big one bulkier to carry around.
Conclusion:
By summing up all discussion I leave it to you, tell us what you think of it in the comments section. Be it the weightier weed grinder with ceramic coating or herb grinder with aluminum.